Tango ZZs & More
Live at de Toonzaal
Es bedarf größten Aufwandes und auch Glückes, einen zweistündigen musikalischen Moment gelungen auf eine CD zu pressen. Solches ist gelungen bei TangoZZ&More -Live at de Toonzaal - einem Projekt des niederländischen Pianisten Wim Warman und seines Saxophonisten Ruud Bergamin. Bei den zwölf Titeln, von denen acht Eigenkompositionen sind, werden die beiden von Santiago Cimadevilla am Bandoneon und der Geigerin Ruzana Tsynbalova brillant zum Quartett ergänzt.
Für gewöhnlich werden bei live CDs mehrere Konzertabende zu einem zusammen"geschnipselt". Dem Quartett des ehemaligen Pianisten des Sexteto Canyengue gelingt es dagegen, den Abend des 22. November 2014 in seiner Klangfülle und seinen intimen Stimmungen komplett zu erhalten. Die vier Musiker sprechen in allen Finessen der Rhythmik und Dynamik miteinander. Der Zuhörer lauscht den klaren reinen Passagen der Geige, dem verspielten Flüstern des Bandoneon und dem warmen Vibrieren des Saxophones. Wim Warman hält das Gesamte sicher, aber nicht dominant mit dem Klavier zusammen.
(Rezension in Tangodanza 70 - 2.2016)
Inhalt
Länge: 55:00 Min.
01 Catorce De Septembre - 3:14
02 Nosyagias - 3:33
03 Horatio - 5:02
04 A Moment Of Silence - 6:24
05 Sur - 5:05
06 Escapado Mi Soledad - 5:11
07 Tango De La Historia - 4:15
08 Romance De Barrio - 3:16
09 Ambiente De Oktubre - 6:00
10 Atomosphere - 4:57
11 Candombeada - 4:49
12 La Casita De Mis Viejos - 3:20
Customers who bought this product also bought the following products...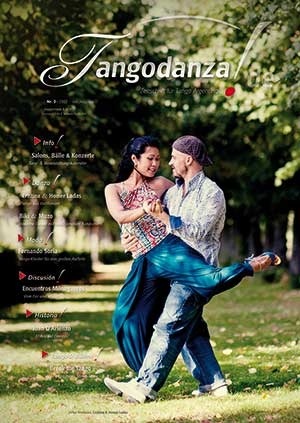 Magazine
9,50 EUR
Details ...