Fernando Otero & Victor Hugo Villena
Buenos Aires Now
Mit einem Gefühl für Kammermusik, Improvisation und zeitgenössischer Klassik haben die beiden aus Buenos Aires stammenden Musiker Fernando Otero und Victor Hugo Villena ihre Heimatstadt als Zentrum ihres gemeinsamen Albums ausgewählt. Ihr Spiel vermischt sich dabei zu einer interaktiven Sprache mit lyrischen Phrasierungen, die klar dem argentinischen Tango zuzuordnen sind und schnell zwischen herzergreifenden Melodien und rasanten Rhythmen wechseln.
Ihr Album ist ein Klang-Portrait der Stadt Buenos Aires, bei dem das Bandoneon eine Hauptrolle spielt und das Klavier melodische Gegenpunkte erforscht. Der Sound, der dabei entsteht ist mächtig und dicht wie eine Klang-Mauer.
Fernando Otero
Der Grammy Gewinner und Warner Music Recording Artist Fernando Otero wird von den Kritikern als virtuoser Pianist und Komponist geschätzt, der auf der Grundlange des Tangos mit Elementen der zeitgenössischen Klassik und der improvisierten Jazzmusik, seinen eigenen Stil entwickelt hat. Seinen Stil als Komponist und Musiker entwickelte er, als ihn einer seiner Lehrer drängte, den Sound seiner Heimatstadt Buenos Aires in sein Werk einfließen zu lassen. Otero lebt in New York und hat u.a. mit Paquito De Rivera, dem Kronos Quartet, Eddie Gomez und Quincy Jones zusammengearbeitet.
Victor Hugo Villena
Geboren 1979 in Argentinien, zählt Victor Hugo Villena zu den aktuell bedeutendsten Bandoneon Virtuosen. Die New York Times schrieben über ihn: "Mr. Villenas Bandoneon spannt den Bogen zwischen geerdet und himmlisch und kreiert damit ein eigenes Universum. Ein Meister dieses Instruments". Victor Hugo Villena gewann 1997 im Alter von 18 Jahren den Preis als bester Solist beim Nation Competition of Cosquin in Argentinien.
Victor Hugo Villena trat u.a. in der Philharmonie in Paris, dem Teatro La Fenic (Venedig), Broadway 54 (New York), Washington's Synagogue, YIVO's Center (New York), Frankfurt Alter Oper, London Barbican (England), London Queen's Hall (England) Teatro Bibiana (Italien), Dresden Opera House und der Philharmonie in Köln auf.
Inhalt
Länge: 35:58 Min.
01 Arbolitos - 4:53
02 Piringundin - 3:06
03 Tercermundo - 6:42
04 Nolana - 1:50
05 Manifestacion - 6:24
06 Aroma - 4:51
07 Putrusa - 3:16
08 Aguaribay - 4:56
Customers who bought this product also bought the following products...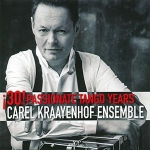 CD
19,50 EUR
Details ...