Gabriele Brandstetter, Gerko Egert, Sabine Zubarik
Touching and Being Touched. Kinesthesia and Empathy in Dance and Movement.
323 Seiten, broschiert
In dem Sammelband sind drei wissenschaftliche Beiträge zum Tango Argentino vertreten. Der Band widmet sich Fragen der Empathie und Kinästhesie im zeitgenössischen Tanz und der Berührung in den Künsten. Der Tango wird dabei aus drei verschiedenen Perspektiven untersucht: Die griechische Anthropologin Kornilia Chatzimasoura behandelt in ihrem Artikel 'Lost and Found in Interpretation. Senses and Emotions in Contexts of Argentine Tango' Aspekte des Sehens und Gesehenwerdens und das Phänomen der geschlossenen Augen beim Tanzen. Sonia Abadi aus Buenos Aires (bekannt als Autorin des Buchs Der Bazar der Umarmungen) legt im Beitrag 'Dancing Tango. The Weave of an Emotional, Corporal and Social Network' die genderspezifische Komponente der unausgesprochenen Regeln des Tangos als social dance dar. Die Literatur- und Kulturwissenschaftlerin Sabine Zubarik berichtet in ''Touch me if you can'. The Practice of Close Embrace as a Facilitator of Kinesthetic Empathy in Argentine Tango' über eine empirische Studie zu Effekten der Berührung in der engen Umarmung.
Alle Beiträge sind in englischer Sprache. (Vorgestellt in Tangodanza 2.2014).
Customers who bought this product also bought the following products...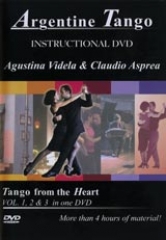 90,00 EUR
Details ...